How to brief a design agency – Six excuses to CHAT
Many of our clients don't work in marketing. They're business owners or architects. Or Fundraisers. Or Nature Reserve Manager's. So, coming to an agency to get something designed can be daunting. What do you say? Who do you talk to? This is the first in a series of posts about how to brief a design agency to make sure you are pleased with the final result.
Our first piece of advice is to CHAT.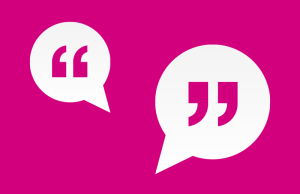 1. Meet with the Account Director and / or Senior Designer as soon and as often as possible. Preferably before you get a quote and at key points along the way. If the agency send you a form to fill in before you've even spoken to someone, you might want to go elsewhere. If you can't meet, book some time out for a chat on the phone or Skype.
2. Consider who meets with the agency. Who is best placed to talk about it is you want? It can be helpful to have additional people to offer technical information and also offer a different perspective but be aware that too many cooks can dilute what you're trying to achieve so it's best to have one decision maker. (This isn't always possible if you have hands-on Trustees for e.g.)
3. If an agency are going to market your organisation then the more they know and understand the better. Why not invite them to your premises or demonstrate your products to them? The more you interact and get to know each other the more success you will have. (Have a nosey at their bio's on their website too)
4. Be open. The right agency will ask lots of questions about your business and what you want to achieve so be prepared to be honest and open. The more you share, the more they'll understand.
5. It's ok to say "I don't know". The agency may ask some questions which you can't answer and it's fine to say you don't know. The agency should suggest ways of finding out the answer if it is crucial to the direction of the project.
6. Be yourself. Chances are, if you're the business owner or project leader, you'll be passionate about what you do and that should come through. There's no need to be clever and use jargon or big words and if your agency does (without explaining them) you might be with the wrong people.
If you want to chat to an agency who love talking and listening to clients, contact us.
Date: 18th March 2016
Author: Sarah Pryer, Director